'2018 Simulation Training regarding New Infectious Diseases'
A simulation training was carried out in order to strengthen its crisis response capability
Transported a patient on a negative pressure moving cart, wearing N95 masks and level D protective equipment
Korea University Guro Hospital (president: Han Seung-kyu) conducted the '2018 Simulation training regarding new infectious disease' on June 15th.
The simulation training, organized by Office of Infection Control of Korea University Guro Hospital, was carried out to enhance the hospital's ability to cope with the crisis by establishing a response plan for the hospitalization of a patient suspected of having a new infectious disease and by evaluating the training and prevention plan.
The training began as a patient, who had traveled to Saudi Arabia and was suspected of having Middle East Respiratory Syndrome (MERS), came to the triage stations located outside of the emergency room and had medical checkup and fever check. After the patient got a medical examination and tests, he was hospitalized to a negative pressure room isolated in ICU.
All of the training was carried out in the same way as it was a real situation. It was supposed that the emergency system for infectious diseases was announced in the hospital, and doctors and nurses examined and tested patients wearing N95 masks and level D protective equipment. The hospital had to report to the public health center for the patient's hospitalization and request for an isolated bed as designated by the Seoul Metropolitan government. To transport the patient, a control line had to be set up for isolation from the general public and a negative pressure moving cart was used to block the transmission of infection to the outside.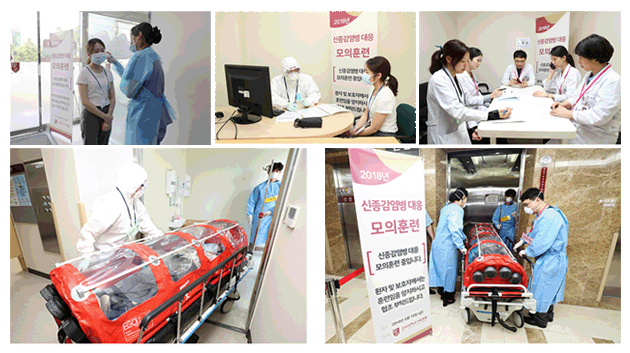 Song Joon-young, director of Infection Control (Dept. Infectious Diseases), said, "As we experienced through H1N1 (swine) influenza in 2009 and MERS in 2015, a crisis caused by new infectious diseases can happen without any warning, so it is very important to conduct this kind of simulation training." "Korea University Guro Hospital will strengthen its response capability for new infectious diseases through simulation training, preparing for any emergency cases. I would like to thank all the department cooperated and participated in this training, including Emergency Medical Center, Intensive Care Unit, Inpatients and Outpatients Affairs Team, General Affairs Team, Facility Management Team, Division of Quality Improvement, and etc.
On the other hand, as Korea University Guro Hospital was designated as a "National Safe Hospital for Middle East Respiratory Syndrome" in 2015 when an outbreak of MERS occurred in Korea, it prepared outpatient rooms and negative pressure rooms isolated from other patient rooms in order to prevent the transmission of MERS and establish a safe national network for disease control. In addition to protecting the inpatients from MERS, it contributed to successfully preventing the occurrence and spread of MERS in the local community through close cooperation with related local organizations.